It's final project day for The Outsiders, and the greasers and the Socs are roaming the 8th grade halls! Stay gold, MPS!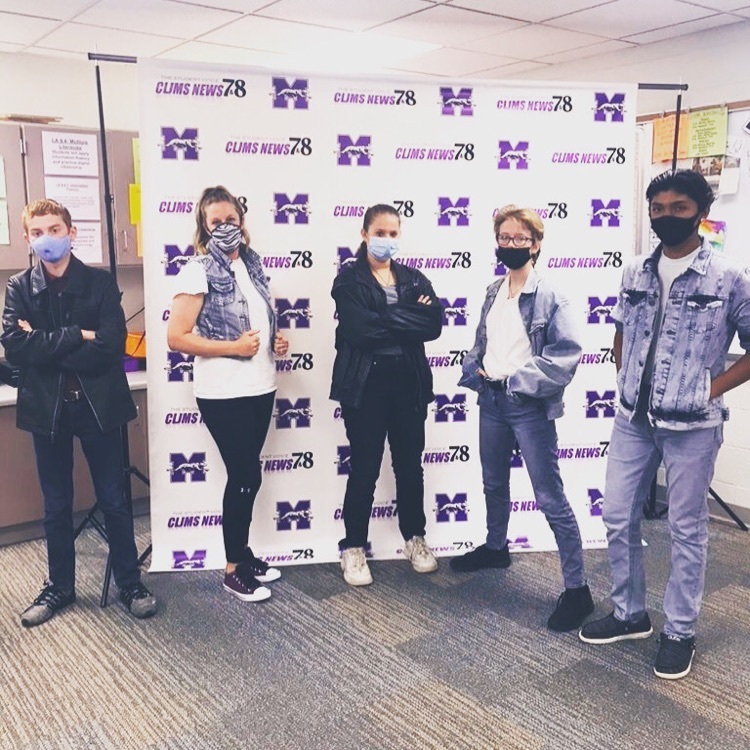 District Track will be held in Aurora Thursday, May 13th. I have attached the meet schedule. Go Whippets!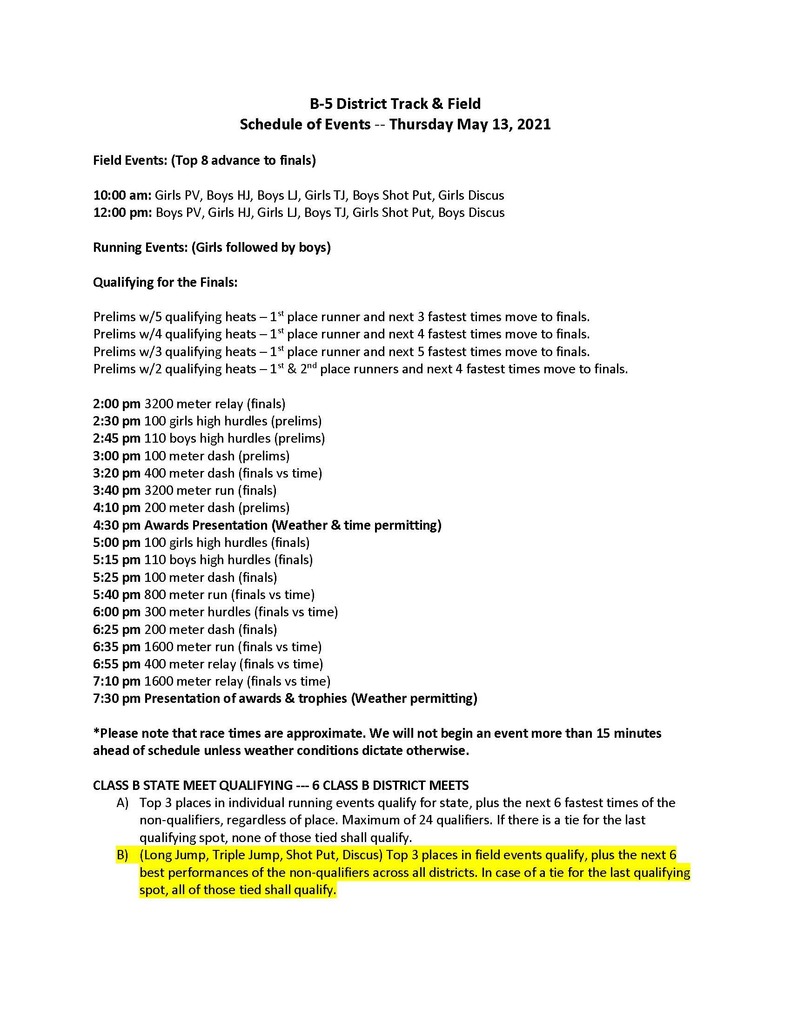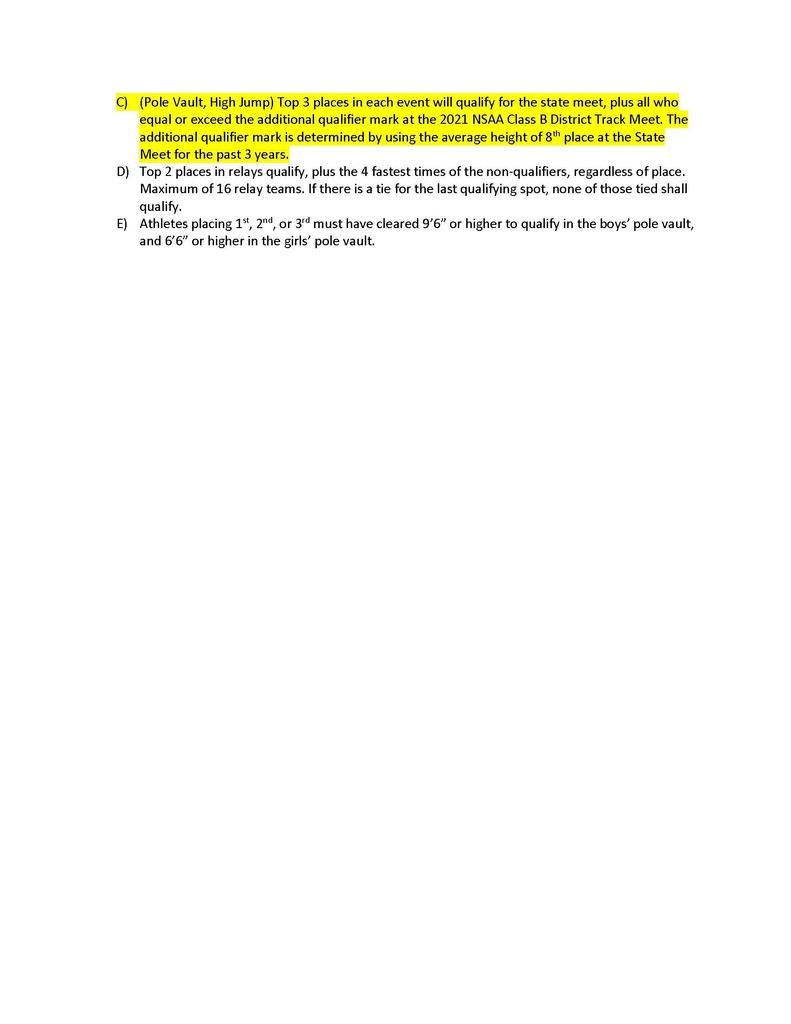 Band Concert Update: Dear Parents and Patrons: Due to an unforeseeable conflict tonight's Band Concert will not start until 7:45 p.m. We apologize for this inconvenience and appreciate your understanding.

Concert order for the CLJMS Spring Concert: 4th Grade 5th Grade Vocal 5th Grade Band 6th Grade Vocal 6th Grade Band 7/8th Grade Vocal (together) 7th Grade Band 8th Grade Band 7/8th Grade Band (together) Times: Students should be in the choir room 30 min before going on stage 6:00 PM 4th Grade (in the choir room by 5:30 PM) 6:30 PM 5th Grade (in the choir room by 6:00 PM) 7:00 PM 6th Grade (in the choir room by 6:30 PM) 7:30 PM 7th and 8th Grade(in the choir room by 7:00 PM) Attire: Semi-formal / formal wear. -Nice slacks or khaki pants and a nice shirt. A nice pair of jeans is also acceptable. -Dress or a skirt and blouse, with nice shoes. Girls may also wear pants with a nice blouse.

Congratulations to our Minden JV boys golf team for winning the Cozad Invite today with a score of 201!

The CLJMS Spring Vocal/Band concert will be May 10th, at 6:00 pm in the MHS auditorium. This will be an in-person concert. We can't wait to see you there!

Boys golf tee times for the Gothenburg Invite. Go Whippets!
We hope you can join us for an Evening with The Arts.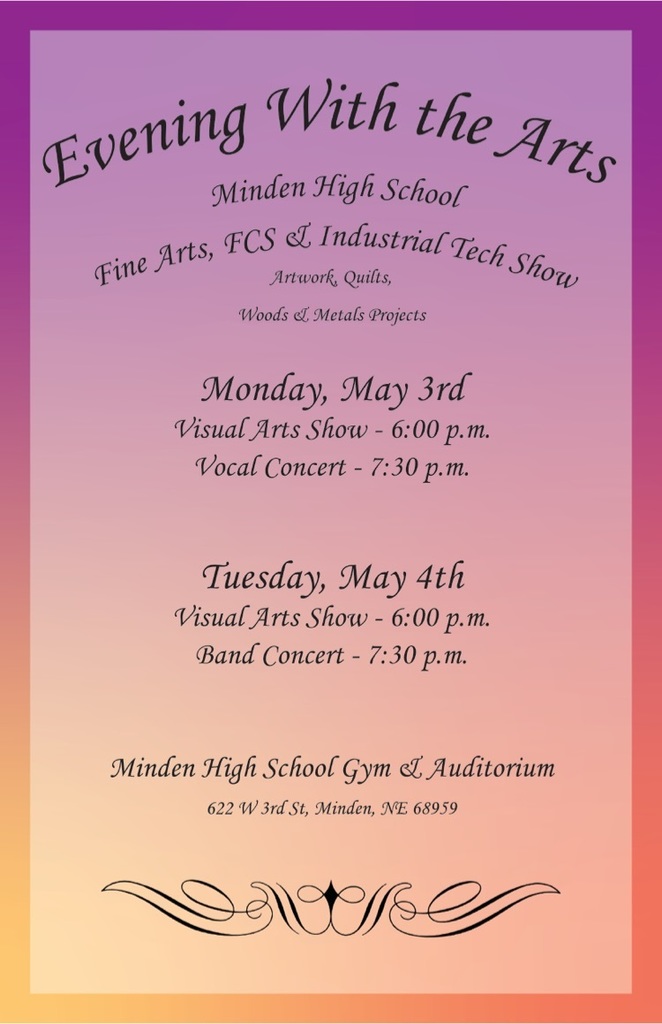 Reminder: Boys varsity golf will be in Gothenburg for an invite Tuesday, May 4th. This is a make up meet due to weather. We will not be going to Cozad for the golf dual. Go Whippets!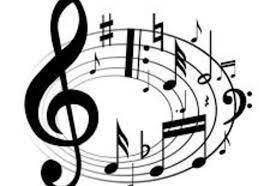 I made these ribbons tonight. That can only mean one thing ... It's time for Minden High School's annual "Evening with the Arts." Stop by the high school Monday and Tuesday this week (May 3rd and 4th) to see what our talented students have been up to this year! We have an impressive display of quilts, artwork, and woods & metals projects. While you're there, stick around for the vocal concert on Monday and the band concert on Tuesday. You'll be glad you did! Hope to see you all there! 👍
Turner is the 6th grade student of the week! Thanks for being respectful, responsible, and safe.

Tonight's your last chance to see Peter Pan and Wendy! You won't want to miss it! 7:30 at the HS theatre!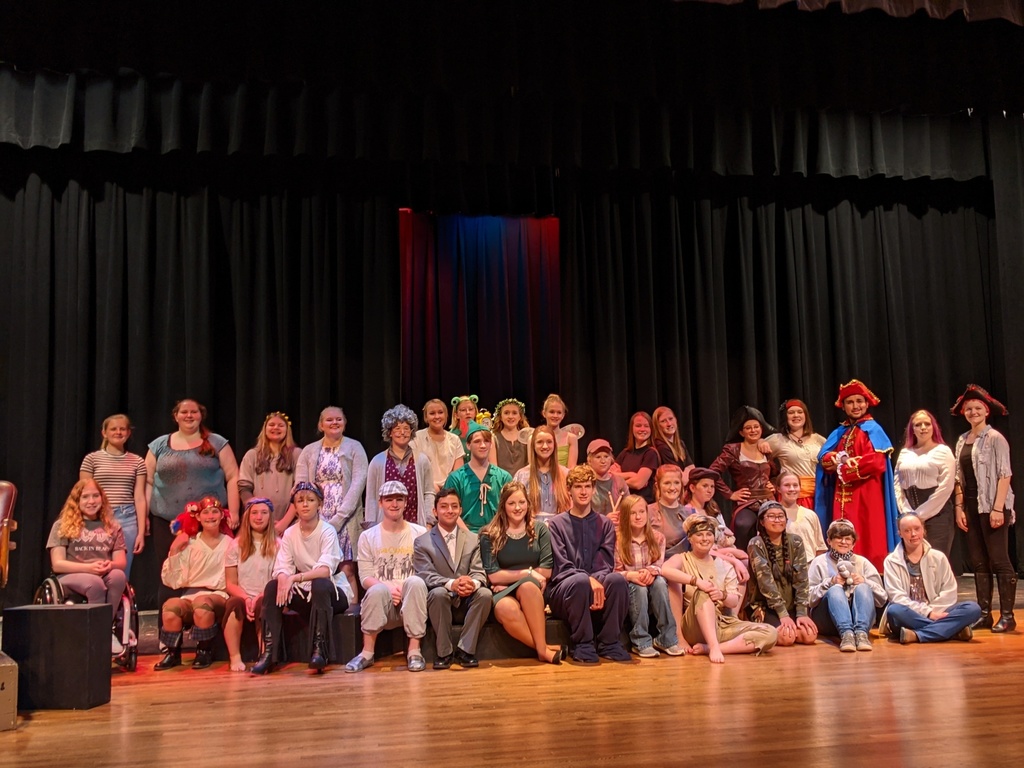 The Foods class is really advancing with their skills! This week: lattice top pies with homemade crusts! They were flaky, crisp and tender ... not to mention, BEAUTIFUL! 👍🥧👍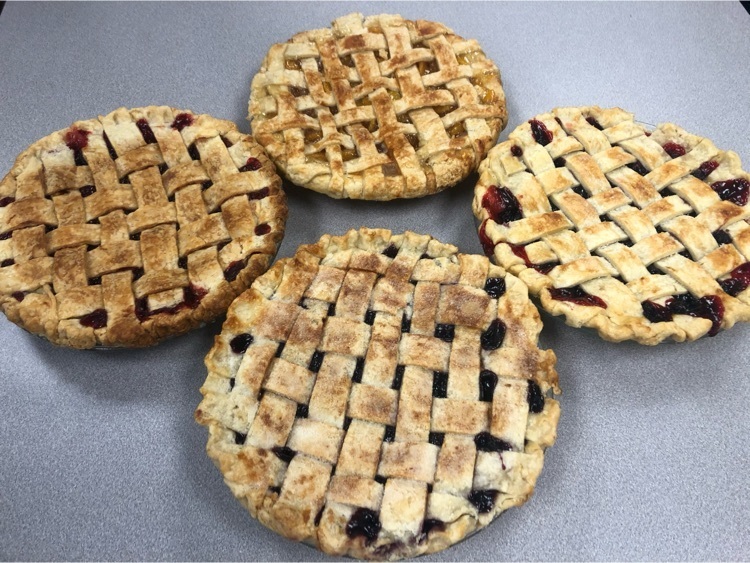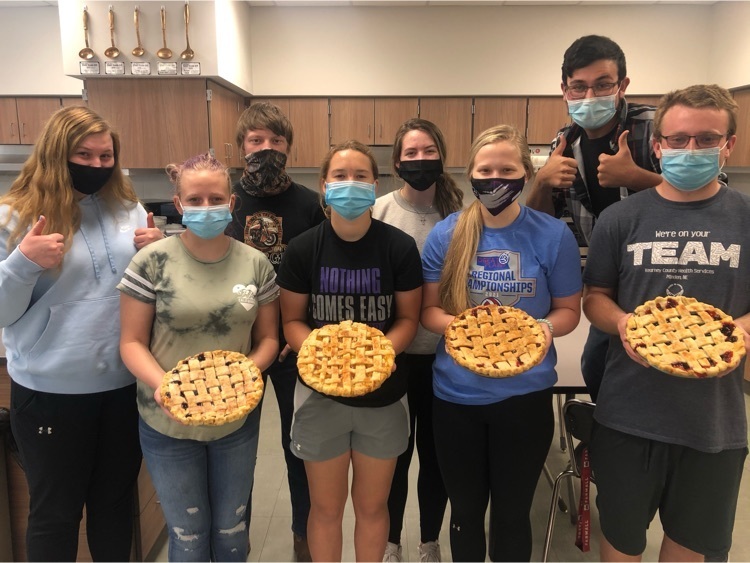 Check in your school's office for Junior Golf Camp entry forms! We can't wait to learn and grow with our 1st-12th grade golfers!

Opening night is tonight! A second performance is Friday night! Peter Pan and Wendy Minden High School Theatre 7:30 PM $5 adults, $3 students, free with student activity ticket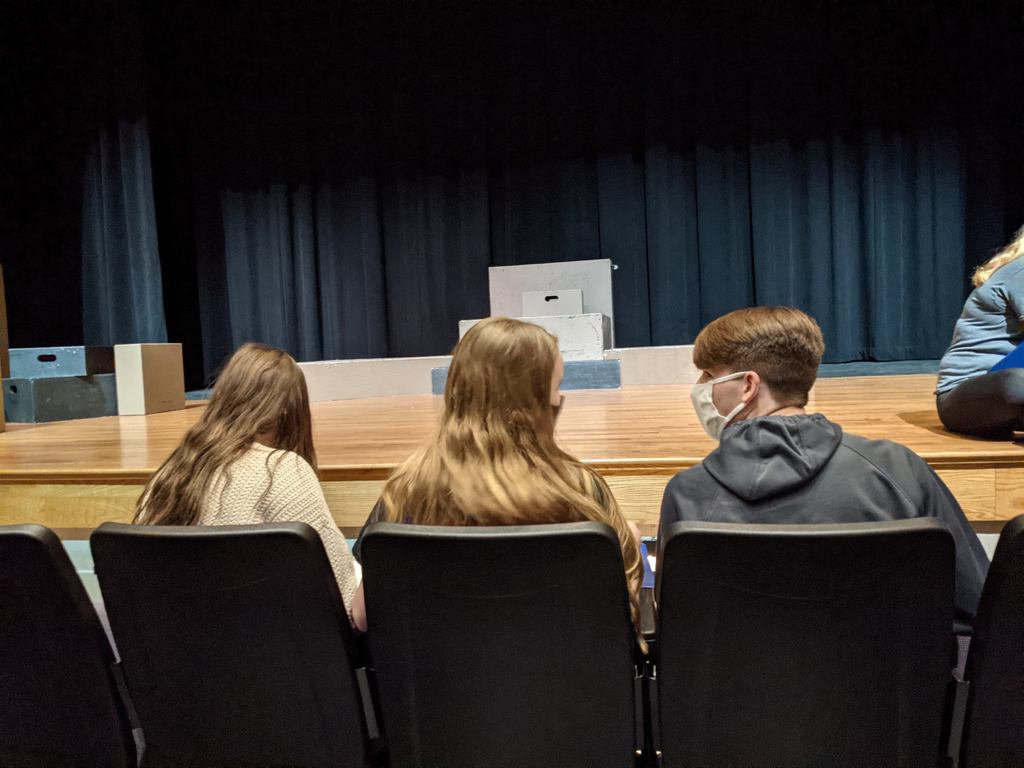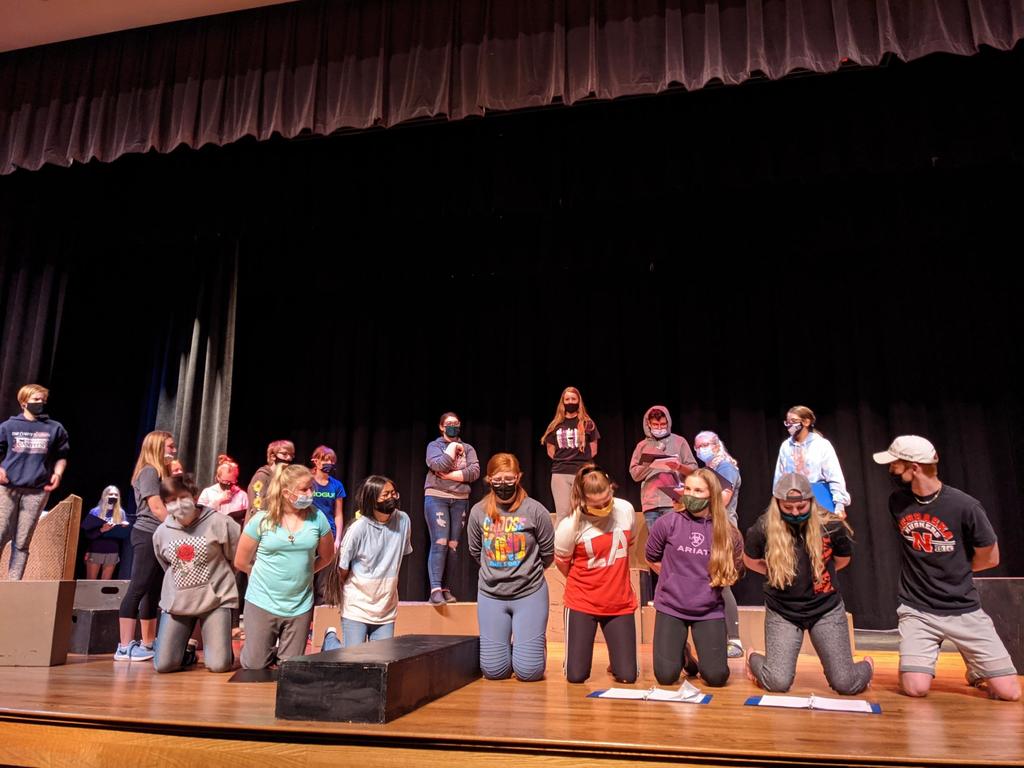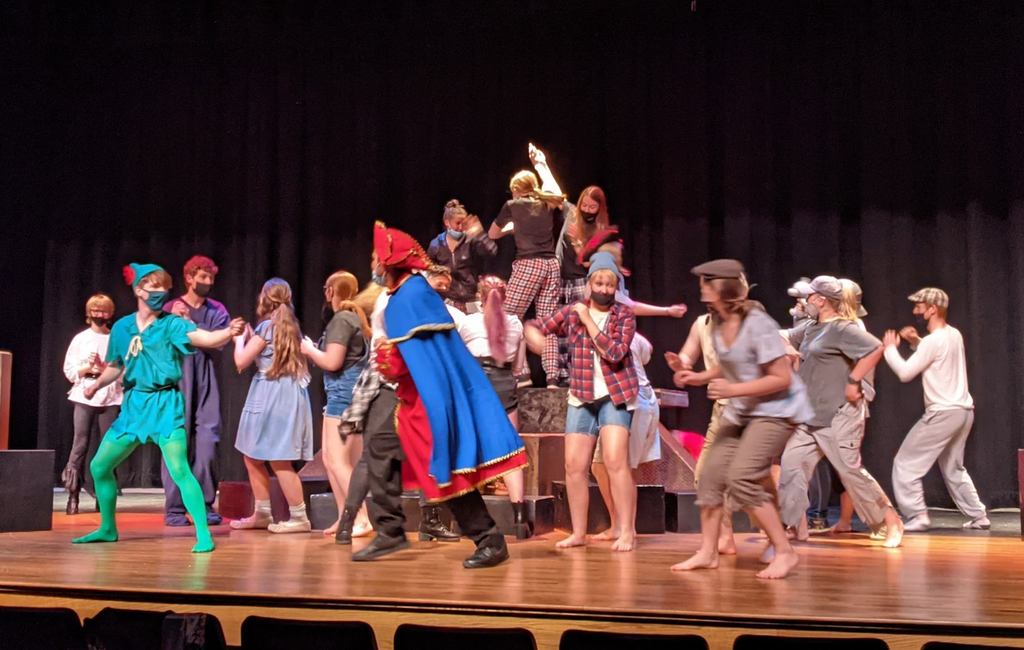 We are pleased to be hosting our youth football camp again this year. It is open to area youth going into 3rd-8th grade. The camp will run June 2nd and 3rd from 12:30-2:00. Registration deadline is May 25th.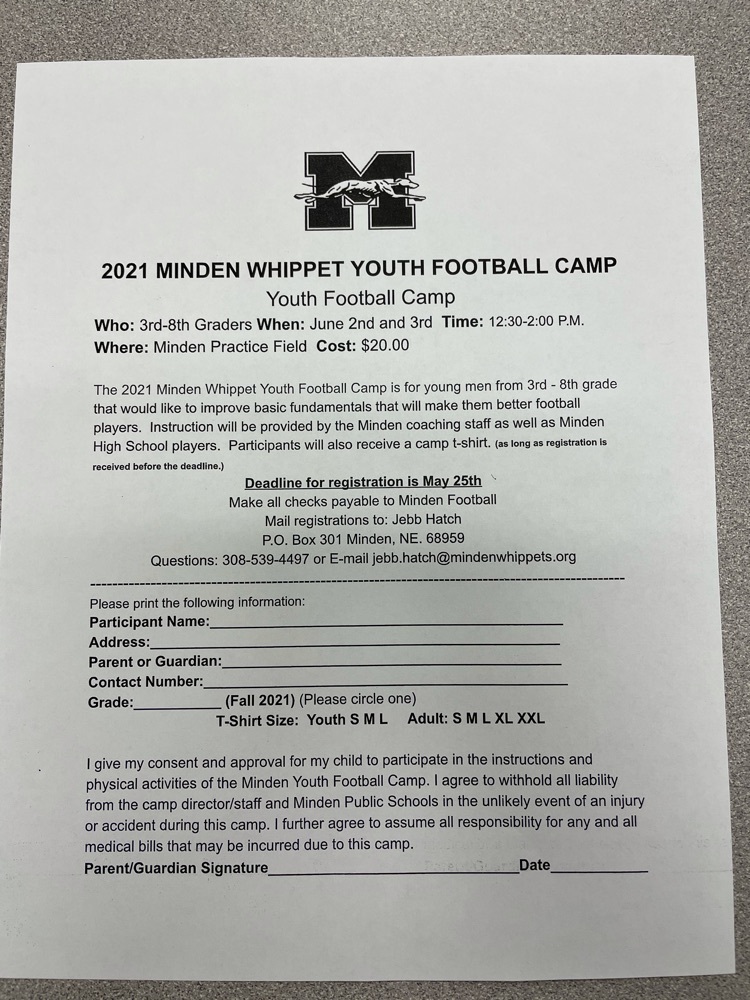 An amazing cast is performing Peter Pan and Wendy on Thursday, April 29 and Friday, April 30 at 7:30 in the high school theater. We look forward to seeing you there!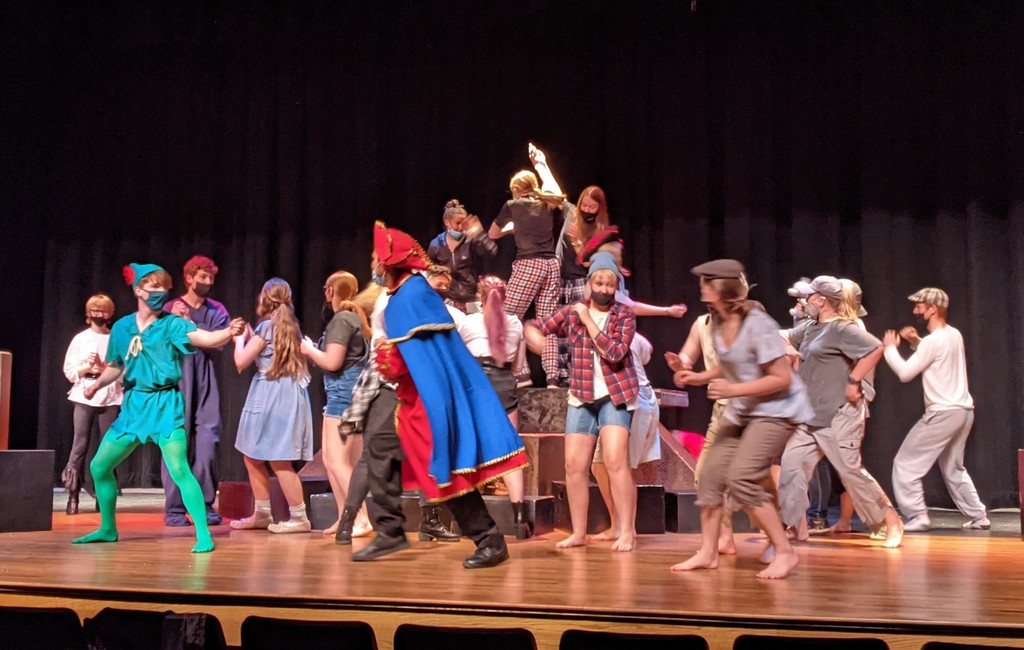 We are excited to announce that Abby Fiske has been named Nebraska FCCLA Vice President Of Public Relations! She will be a great team member and leader! We are very proud of Abby!