We love Mrs. Stott, our amazing guidance counselor! Could we get any luckier that she gave her time to come see us (along with rock brain and superflex)?!? Our last day of summer learning was great!!
The unofficial results are in…hamburgers and dogs it is! Thank you for the wonderful response rate to our persuasive writing debates!! We had full and exciting graphs! Tomorrow is our last day of summer school but boy, have we had some fun!
This week we practiced letter writing by writing letters to our previous homeroom teachers. We also practiced addressing envelopes. This morning, before the heat really sets in, we walked the two blocks to our very own Minden Post Office in order to mail our teachers their letters. Summer kiddos can tell you how old the post office is and about the beautiful mural in the post office lobby.
This morning we had a guest teacher to our summer time fun! Mrs. Olson invited us with her to the library, read a book to us, and we had time to look through library books. Thank you Mrs. Olson! We loved seeing your smile and seeing your love for books again!
This morning we walked to Bethany Home to deliver artwork to the residents and share our smiles and waves. Students learned about being positive contributors to our community, spreading kindness to others, and the power of one thoughtful act. See our East Facebook page for a sweet video of our trip to Bethany.
Last week, our K-1 crew had a finale activity of eating popsicles together. Parents: Thank you for letting us spend our time and energy on these awesome kids! We're having a great first day with 2nd-3rd graders today!
This morning at K-1 summer school, Mrs. Stott spoiled us by sharing her own time to join us for a guidance lesson. The kids LOVED seeing her smile and we're so lucky to have a summer time check in with her!
Students that were in kindergarten and first grade and signed up for summer enrichment: Tomorrow is your day! We'll see you at 8 tomorrow morning and we'll be done at noon. Parents: Please call the school office and leave a message if you have questions. 😊
Just a reminder: The last day of school is this Wednesday. School is dismissed at noon. Report cards will be sent home on Wednesday with your child.
Just another reminder for our track meet Friday, May 7th.
Preschool/Kindergarten teacher collaboration after school today: always working to be the best we can be for kids.
Kiddos aren't just special to us Monday through Friday. Mrs. Miller cheered on awesome soccer players who were so excited to see her!
These kindergarten students are all aglow for learning!
Earth Day recognition around East today.
Our third graders are working hard on their state assessments but not without positive vibes from the second graders. 💜
Not just kindergarten students took part in chalk day last week.
Home and School Connection💜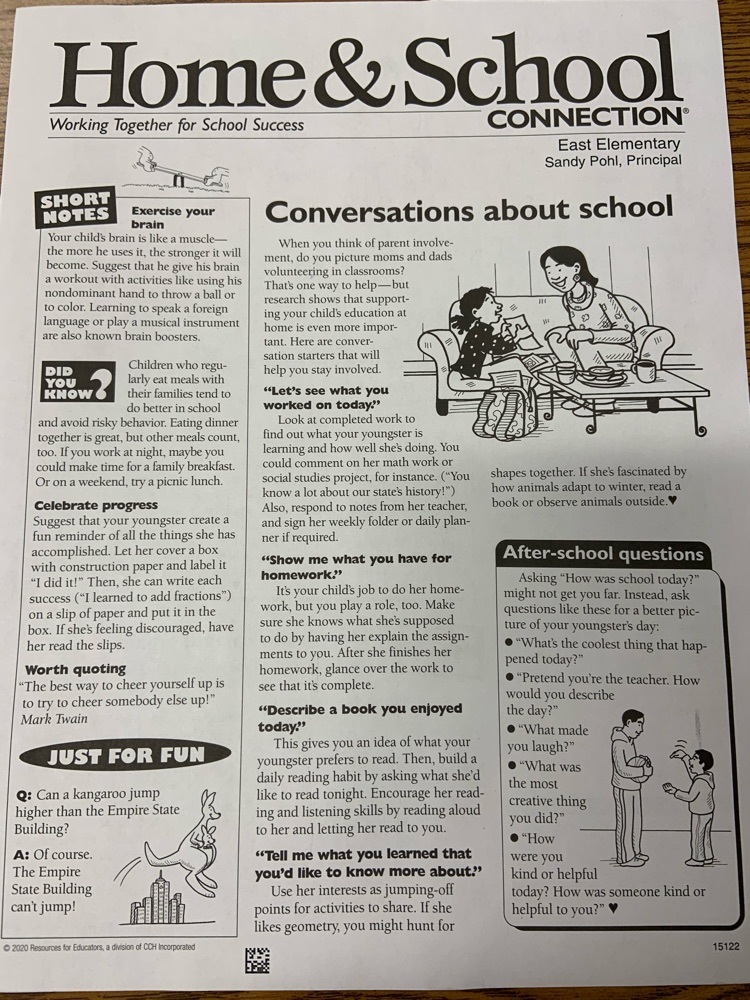 These two third grade boys presented their hoverboard snowplow (3rd grade winning/inventors choice award of the ESU 11 Invention Convention) to the School Board this evening. SO very proud of them!
Kindergarten artists made these roaring lions in art.
Second grade parents, Did you know your kiddo took a trip to Africa? Check out the proof. 😉